Many customers ask what type of carpet steam cleaning Bradenton Carpet Cleaner uses.  Which equipment provides the best cleaning?
In the 1980's truck mount systems were the best, by far.  Portable machines had no internal heating source.  Those machines are now called "cold water extractors".  The other detriment using the old portable carpet cleaning machines was their low water pressure put more moisture into the carpets, thus increasing drying times.
Because of their lack of power, many manufacturers of carpet cleaning equipment produced machines with scrubbing brushes to help loosen soil.  While these machines provided a modest improvement they were rough on the carpets, removing fibers which is not good for your carpet.
In the 1990's water pressure in portable machines began to increase.  Also, some machines began to be offered with internal heating elements.  This improved the performance of the carpet cleaning machines.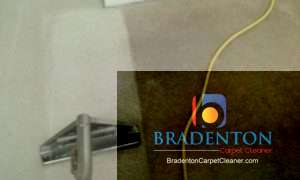 Today, some companies produce dual circuit portable machines with internal heating and pressure as high as 500 Psi(pounds per square inch).  These machines offer cleaning performance closer to the truck mount systems than ever before.
However, portable carpet cleaning machines offer more benefits.  Surprisingly, many customers prefer portable machines over truck mounted systems.  This list is from previous customers negative feelings regarding truck mounted systems:
Truck mount systems can only serve first floor properties

Loud van noise will disturb neighbors or community

Technicians pull long hoses through home and have damaged walls and corners.

Truck mount crews are under pressure to turn jobs quickly and don't try to remove stains.

Truck mount units burn gas and/or other fuels.  Not green friendly.

Illegal dumping of waste water in street or storm water drains.
Times have changed.
This list provides some excellent reasons to consider the advantages when hiring a carpet cleaning company that has good equipment and experience in cleaning.  Bradenton Carpet Cleaner would be happy to demonstrate the performance of a state of the art, high tech portable carpet cleaning machine can do for your home or business.
Call 941-227-4944 for more information or for a free carpet cleaning estimate.